You asked for it, and we delivered! We've added a notepad feature to Lists for Writers in our latest update, available today!
What's new?
The #1 requested item is here! NOTEPAD!
– Tap notebook icon above to view
– COPY or note any list item
– EDIT notepad contents
– EMAIL notepad
– PRINT notepad * (requires iOS 4.2+)
Plus:
– Revised several lists – corrected errors, made clarifications
– Added more occupations
– Added ANIMAL lists! Domestic and general lists, plus list of animal sounds!
Once you select any list item inside the app, you can select "Copy" or "Note." If you copy the item, you can paste it into any other document or writing app you are using on your device immediately.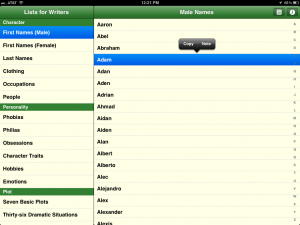 If you select "Note," your selection will automatically be copied and pasted inside a text document in the app. In the upper right hand corner of the app, there is now a notepad icon. Select the icon and it opens the notepad. Here, you can edit the text, and when you select the share icon in the upper right corner, you will have the option to email or print!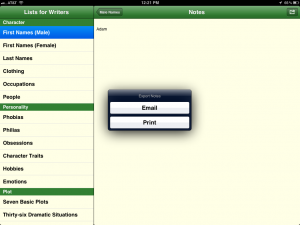 This was the #1 requested feature from our customers and reviewers! We love feedback, so please send us a note or comment on our facebook page!