Story Spark is a creativity tool to generate ideas for plot, character, and setting.
With a simple tap on the screen, get a fresh new spark of inspiration instantly!
Great for the reluctant writer, young and old. Are you worried about what people may say or think about your original story idea? Story Spark can help. Express your creativity by expanding on the Story Spark prompt. Build your creative writing skills by elaborating and embellishing on the trillions of prompts contained in Story Spark.

Features:
✔ 25+ Scenarios, with unlimited word combinations
✔ 37 Beautiful background images
✔ Navigate back through your history of prompts
✔ Mark prompts as favorites
✔ Regular content updates
✔ Universal App
✔ High-resolution graphics supporting Retina Display
✔ Apple VoiceOver support for low-vision users
Recommended ages: 10 and up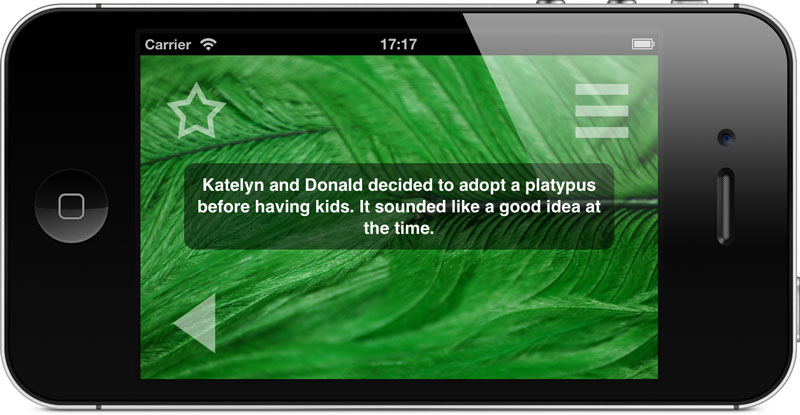 Activity Ideas and Education Applications:
1. Creative Writing. Read the prompt silently, then construct a short story or poem.
2. Storytelling. Read the prompt silently, then create a story.
3. Drama Class. Divide students into pairs, then give each pair a prompt. Have each group act out the scene, then read the given prompt to the class.
4. Critical Thinking. Read the prompt, then answer the five W questions (Who? What? Why? When? How?)
5. Geography Challenge. Read a prompt with a location and find it on a map.
6. Word Swap. Do any of the previous activities but allow students to change one word in the prompt to one of their own choosing.
7. Sketch the Scene. Read a Story Spark, then draw a sketch of the scene.