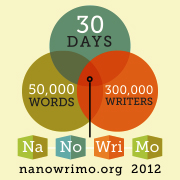 What the heck is NaNoWriMo? Well, it's a crazy good time! National Novel Writing Month is an event held during the 30 days of November where the goal is to write 50,000 words. Yep. That's a lot of words. All in November.
The Young Writers Program is an educational extension of NaNoWriMo to encourage writers of all ages to write for fun! The goal for students is 1,000-10,000 words. Students of all ages can accomplish 1,000 words in a month. That's a mere 34 words each day. One bonus of the YWP is that each student that successfully reaches his/her goal receives five (5) free paperback copies of their book! Totally awesome!
Thinkamingo's first and most popular app, Lists for Writers, was born out of our own personal list of lists that we'd each been keeping for writing projects. This week, it is the first app listed in Cult of Mac's National Novel Writing Month App Superguide!
It's safe to say that Lists for Writers is a "must have" app. With over 10,000 users, and more downloads every day, we know that people love it!
Some of our reviews from the App Store:
"Five stars isn't enough! A fantastic app for writers. Whether it be writer's block or character development, this app will help you with all your writing needs. The rhyming dictionary and plot guides are particularly helpful. One of my favorite apps." from Appvocado
"I am totally in-love with this app." from Dayana32738
"I work off lists, so this is a godsend for me." from Lulunw
With 69 ratings and 39 reviews in the App Store, Lists for Writers is a solid 4.5 star app with many more reviews like the ones quoted here.