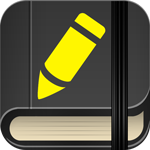 Sketch Spark is a creativity tool to generate ideas for sketching, drawing, and other art projects using real art supplies for actual drawing with pencil and paper, sketchbooks, etc.
With a simple tap on the screen, get a fresh new spark of inspiration instantly!
Great for the reluctant artist, young and old. Are you stuck in a rut with your original drawing concepts or exercises? Sketch Spark can help. Great for artists of all ages and skill levels.
Art teachers, select a Sketch Spark to warm up your class!
Start each day with a new drawing exercise. No decision-making involved. Open Sketch Spark and tap the screen. No distractions, no additional steps, just drawing ideas.
Features:
✔ 150+ drawing ideas
✔ Additional unlimited ideas by combining random words
✔ 53 Beautiful background images
✔ Navigate back through your history of prompts
✔ Mark sparks as favorites
✔ Regular content updates
✔ Universal App
✔ High-resolution graphics supporting Retina Display
✔ Apple VoiceOver support for low-vision users
Recommended ages: 10 and up