Thinkamingo of Tampa, Florida, a leader in the online privacy arena, celebrates Data Privacy Day on January 28
The app developer members of the Know What's Inside™ program, including Thinkamingo Inc of Tampa, Florida, extend support to Data Privacy Day, an annual event promoting data privacy education. Members of the Moms with Apps Know What's Inside™ program are thrilled to participate in the effort to empower and educate people to protect their privacy online.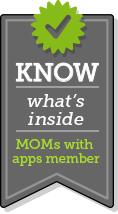 "Making apps for kids is a lot of fun, but it is also very serious business. I take the privacy of the children that use my apps as seriously as my own child's privacy. My job as a parent and an app developer is to protect the privacy of our users as if they were my own kids," said Ann Adair, co-founder of Thinkamingo. "In the current climate of data management missteps, I congratulate the efforts surrounding Data Privacy Day. As a Moms With Apps Know What's Inside™ member, I pledge to continue to protect the privacy of my consumers and to be completely transparent in regards to my policies and data collection in my apps."
"Moms With Apps members are excited to celebrate Data Privacy Day. Our members have pledged to take online privacy very seriously," said Sara Kloek of Moms With Apps. "Their apps are designed especially for children with special attention to online privacy. A lot of our members are parents themselves. They believe in the importance of protecting their children's privacy, but also educating others on how to provide the same protection by being transparent about their apps and their data collection policies."
Moms with Apps is the largest community of family friendly app developers in the world. Moms with Apps and the Know What's Inside™ program are a part of ACT | The Apps Association, and are dedicated to helping family-friendly app developers implement best practices around privacy and comply with privacy rules, including the Children's Online Privacy and Protection Act (COPPA). The program provides developers with guidance on best practices, and requires each developer to implement those best practices in order to display the Know What's Inside™ seal on their apps. For more information, visit momswithapps.com.