It's that time, again! I'm buckling down and getting some real writing done this month with encouragement from the good folks at Camp NaNoWriMo. I'm using all of our writing tools: Lists for Writers, Story Spark, Story Dice, Name Dice, and Spooky Story Dice.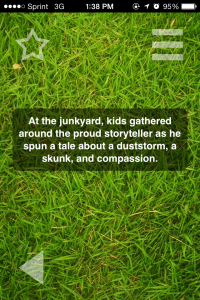 My goal is 50,000 words this April and a complete first draft of a novel. We'll see how that works out. I'm using a handy web tool call Word Counter to analyze my writing. The writing analysis tool is just one reason to visit their site. You will find a lot of helpful writing advice on their blog, too!
Another thing I'm trying is camping out at new places to write instead of my dining room. Right now, I'm writing from a local gaming store. I'm a huge fan and frequent customer here and they are very generously allowing me to hang out and work at a table today. I think I might have to make this a regular thing. It's very peaceful here. If there were a lot of gamers here right now (middle of the day) it would be a temptation, but right now, it's just a great place to concentrate on what needs my attention.
Take the title of "Camp" very seriously and get out of your normal surroundings to boost your creativity!
Happy camping!